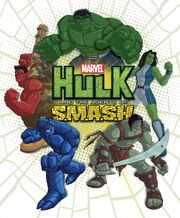 After being bombarded with a massive dose of gamma radiation while saving a young mans life during the testing of an experimental bomb, Dr. Robert Bruce Banner was transformed into the Incredible Hulk: a green behemoth who is the living personification of rage and pure physical strength. He is an agent of S.H.I.E.L.D and currently operates as a member of the Avengers and Secret Avengers.
HULK IN THE MEDIA
Edit
AGENTS OF S.M.A.S.H. IN THE MEDIA
Edit
Ad blocker interference detected!
Wikia is a free-to-use site that makes money from advertising. We have a modified experience for viewers using ad blockers

Wikia is not accessible if you've made further modifications. Remove the custom ad blocker rule(s) and the page will load as expected.