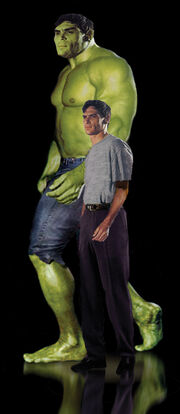 http://i424.photobucket.com/albums/pp327/monitor_ep/comic%20books%20in%20the%20media%20photos/hulklogo_zps3ea32664.jpg
WHAT WE KNOW:
Edit
Producers Avi Arad and Gale Anne Hurd started the development for Hulk in 1990,[11] the same year the final TV movie based on the 1970s TV series aired. Hurd explained the Hulk became her favorite superhero as a child because "When girls are growing up, they're the ones who are picked on. I had an older brother, and there's no way that you could ever really fight back. So, to me, the Hulk was wish fulfillment."[12] By December 1992 Marvel Studios was in discussions with Universal Pictures.[13] Michael France and Stan Lee were invited into Universal's offices in 1994, with France writing the script. Universal's concept was to have the Hulk battle terrorists, an idea France disliked. John Turman, a Hulk comic book fan, was brought to write the script in 1995, getting approval from Lee. Turman wrote ten drafts, being heavily influenced by the Tales to Astonish issues, which pitted the Hulk against General Ross and the military,[14] the Leader, Rick Jones, and the atomic explosion origin from the comics,[15] and Brian Banner as the explanation for Bruce's inner anger. Universal had mixed feelings over Turman's script, but nonetheless future screenwriters used many elements brought by Turman.[14][16]
By late 1996 Hurd's husband Jonathan Hensleigh signed on as producer. Industrial Light & Magic was hired to use computer-generated imagery to create the Hulk. For the second time, France was invited to write the script.[4] By April 1997 Joe Johnston was directing with the film's title as The Incredible Hulk.[17] Universal wanted Hensleigh to write the script since he worked with Johnston on the financially successful Jumanji. France was fired before he wrote a single page, but received money from Universal. However, France still wanted to write the script.[4] Johnston dropped out of directing in July 1997 in favor of October Sky, paving the way for Hensleigh to have his directing debut. Turman was brought back a second time to write two more drafts. Zak Penn then rewrote it.[4][18] His script featured a fight between the Hulk and a school of sharks,[15] as well as two scenes he eventually used for the 2008 film; Banner realizing he is unable to have sex, and triggering a transformation by falling out of a helicopter.[19] Hensleigh rewrote from scratch, coming up with a brand new storyline.[4] In August 1997 Hensleigh completed his script, featuring Bruce Banner, who prior to the accident which will turn him into The Hulk, performs experiments with gamma-irradiated insect DNA on three convicts. This transforms the convicts into "insect men" that cause havoc.[4][20] [1]Concept art for Jonathan Hensleigh's scriptFilming was set to start in December 1997 in Arizona for a mid-1999 release date, but was pushed back to April 1998.[20][21] Hensleigh subsequently rewrote the script with J. J. Abrams. Scott Alexander and Larry Karaszewski were also brought on board to rewrite with Hensleigh still attached as director.[4] In October 1997, Hulk had entered pre-production with the creation of prosthetic makeup and computer animation already under way. Gregory Sporleder was cast as "Novak", Banner's archenemy. Lynn "Red" Williams was cast as a convict who transforms into a combination of human, ant and beetle.[21] In March 1998 Universal put Hulk on hiatus due to its escalating $100 million budget and worries of Hensleigh directing his first film. $20 million was already spent on script development, computer animation, and prosthetics work. Hensleigh immediately went to rewrite the script in order to lower the budget.
Ad blocker interference detected!
Wikia is a free-to-use site that makes money from advertising. We have a modified experience for viewers using ad blockers

Wikia is not accessible if you've made further modifications. Remove the custom ad blocker rule(s) and the page will load as expected.