Ad blocker interference detected!
Wikia is a free-to-use site that makes money from advertising. We have a modified experience for viewers using ad blockers

Wikia is not accessible if you've made further modifications. Remove the custom ad blocker rule(s) and the page will load as expected.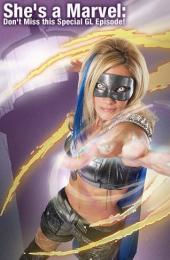 http://i424.photobucket.com/albums/pp327/monitor_ep/guilding-lightlogo_zpsaf8c2513.jpg
Harley is a woman whose powers are reactivated during an accident inside a movie theater in the town of Springfield. Harley returns as the Guiding Light and assist the Avengers defeat the Sinister Six.
Edit
STORY by Comic Vine
Edit
Harley is spending time at the movie theater in their town of Springfield with her family when she gets electrocuted after she spills her soda onto her hand as she plugs in a machine. The town of Springfield experiences a blackout and Harley's powers are reactivated after they laid dormant for several years. Harley's skin begins to glow and she runs off. Spider-Man just captured several members of the Sinister Six in New York when Iron Man appears and tells the web-head they need to go to Springfield because an odd energy signature was reported. Sandman was hiding in a plant pot and freed his teammates. They decide to head into Springfield to look into that energy signature.  
Guiding Light zaps Hydro-Man. Harley finds her husband, dressed in her old costume- the Guiding Light. Harley tells her husband that her super speed is back and she can't turn off her powers when they meet Wolverine and Spider-Man. They take Guiding Light and her husband to the rest of the Avengers after they landed with the Quinjet when the Sinister Six attack. They wanted Guiding Light to be one of their members but she zaps Sandman with an electric blast after he calls her "toots". Guiding Light slams into Hydro-Man in her energy form when he attempts to drown her husband. Guiding Light is laid out but the rest of the Sinister Six are defeated. Harley quickly recovered and Iron Man tells her that the energy signature in her body is gone. Iron Man gives Harley an Avengers Priority Call and tells her to use it when she gets into trouble. 
ORIGIN OF GUIDING LIGHT
Edit
COMIC BOOK TIE-INS:
Edit
GUIDING LIGHT COMICS:
GUIDING LIGHT DIGITAL COMIC
CIVIL WAR: CHOOSING SIDES
SPIDER-MAN LOVES MARY JANE #11
MARVEL SELECT FLIP BOOK #18
MARVEL TALES FLIP BOOK #17
MARVEL ADVENTURES SPIDER-MAN #21
SPIDER-MAN AND POWER PACK #1
MARVEL ADVENTURES FLIP BOOK #18
AMAZING SPIDER-GIRL #2
FRANKLIN RICHARDS: HAPPY THANKSGIVING
MARVEL ADVENTURES FANTASTIC FOUR #18
ULTIMATE MARVEL FLIP BOOK #19
ULTIMATE TALES FLIP BOOK #19