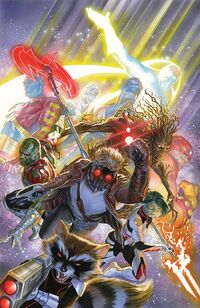 The Guardians of the Galaxy of the mainstream Marvel reality has recently been formed after the events of the Annihilation Conquest. The previous lineup is Adam Warlock, Drax the Destroyer, Quasar (Phyla), Gamora, Starlord, Mantis, Groot, and Rocket Raccoon. After a Skrull infiltration of their headquarters on Knowhere, it was revealed to the Guardians that Mantis had been asked by Peter Quill to use her mind-control powers on the team's members in order to help the team function better.
As a result of this news Phyla together with Drax go in search of Moondragon, Warlock accompanied by Gamora leaves the group and Star-lord also leaves which in turn brought Mantis & Groot to have been moved to active status & the team is lead by Rocket Raccoon. The current lineup of The Guardians Of The Galaxy is Rocket Raccoon, Groot, Mantis, Bug, & Major Victory.
NEIL GAIMAN'S ANGELA:
Edit
Angela is a fictional comic book character created by author Neil Gaiman and artist Todd McFarlane. She
first appeared as a supporting antagonist in McFarlane's creator-owned series Spawn, making her debut in issue #9 (March 1993). She proved to be a popular character, and later starred in her own self-titled miniseries. Angela was later the subject of a legal battle between McFarlane and Gaiman over the rights to the character, which saw Gaiman victorious. She would later appear in books published by Marvel Comics, beginning with the 2013 "Age of Ultron" storyline, with her character expanded on in Guardians of the Galaxy.
(Wikipedia)
Ad blocker interference detected!
Wikia is a free-to-use site that makes money from advertising. We have a modified experience for viewers using ad blockers

Wikia is not accessible if you've made further modifications. Remove the custom ad blocker rule(s) and the page will load as expected.