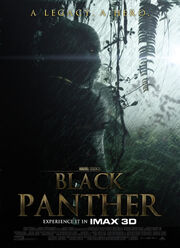 http://i424.photobucket.com/albums/pp327/monitor_ep/comic%20books%20in%20the%20media%20photos/GODSQUADLOGO_zps3ba34e05.jpg
WHAT WE KNOW:
Edit
In June 1992, Wesley Snipes announced his intention to make a film about the Black Panther.  By August, Snipes had begun working on the film. In July 1993, Snipes announced plans to begin The Black Panther after starring in Demolition Man. Snipes said in August 1993, "We have a wide-open field for comic book characters on the big screen and we've yet to have a major black comic book hero on the screen. Especially the Black Panther, which is such a rich, interesting life. It's a dream come true to originate something that nobody's ever seen before." Snipes expressed interest in making sequels to The Black Panther. In January 1994, Snipes entered talks with Columbia Pictures to portray the Black Panther in the film adaptation of the comic book superhero. The following March, Stan Lee joined the development process for a film about the Black Panther. By May, the film was in early development with Columbia Pictures.  In January 1996, Stan Lee said that he had not been pleased with the scripts he had encountered for the Black Panther.  In July 1997, the Black Panther was listed as part of Marvel Comics' film slate. In March 1998, Marvel hired Joe Quesada and Jimmy Palmiotti to work on the Black Panther film adaptation.  In August, corporate problems at Marvel had put the Black Pantherproject on hold.  In August 1999, Snipes was set to produce, and possibly star, in the film featuring the Black Panther.  In Marvel's June 2000 deal with Artisan Entertainment to develop film and television adaptations, the Black Panther was one of the four names (among Captain America, Thor, and Deadpool) that surfaced.
In March 2002, Snipes said he planned to do Blade 3 or Black Panther in 2003, and reiterated his interest five months later.  In July 2004, Blade 3 director David S. Goyer said Snipes would not likely be Black Panther. "He's already so entrenched as Blade that another Marvel hero might be overkill," said Goyer.  In September 2005, Marvel chairman and CEO Avi Aradannounced Black Panther as one of the ten Marvel films that would be developed by Marvel Studios and distributed by Paramount Pictures.  In June 2006, Snipes told Men's Fitness magazine that much work had been done toward a film adaptation of the Black Panther, and that he hoped to have a director soon.  In February 2007, Kevin Feige, president of production for Marvel Studios, stated that Black Panther was on Marvel's development slate.  In July 2007, director John Singleton said that he was approached to do Black Panther. In 2009, Marvel attempted to hire a gathering of scribes to help come up with creative ways to launch its lesser-known properties, such as Black Panther, Cable, Doctor Strange, Iron Fist, Nighthawk and Vision.  In January 2011, Marvel Studios hired documentary filmmaker Mark Bailey to write a script for The Black Panther to be produced by studio head Kevin Feige.  On July 9 Raw Leiba revealed he is in talks to play Erik Killmonger in the film.  Feige said in October 2013 that a film is in development. 
The 2010 film Iron Man 2 features a scene where Nick Fury shows Tony Stark a digital map which pinpoints various metahumans across the globe. One of these electronic indicators was shown in Africa, and according to director Jon Favreau, this was meant as an explicit reference to Black Panther.
Marvel co-president Louis D'Esposito said he thought about making a Black Panther Marvel One-Shots film but felt it would be too complicated to do as a short film
Section heading
Edit
Write the second section of your page here.
Ad blocker interference detected!
Wikia is a free-to-use site that makes money from advertising. We have a modified experience for viewers using ad blockers

Wikia is not accessible if you've made further modifications. Remove the custom ad blocker rule(s) and the page will load as expected.