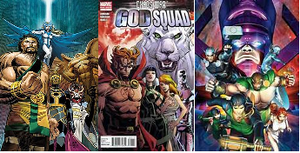 God Squad is the name fictional comic book character Amadeus Cho gave to a team of gods brought together in the Marvel Universe to face the oncoming Secret Invasion. The team was brought together in Incredible Hercules #117 (2008) by writers Greg Pak and Fred Van Lente, and artist Rafa Sandoval.
AMADEUS CHO
Edit
PANTHOR GOD'S BLACK PANTHER
Edit
Ad blocker interference detected!
Wikia is a free-to-use site that makes money from advertising. We have a modified experience for viewers using ad blockers

Wikia is not accessible if you've made further modifications. Remove the custom ad blocker rule(s) and the page will load as expected.