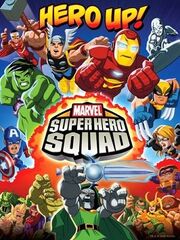 MARVEL COMICS IN THE MEDIA

The Super Hero Squad Show is an American cartoon series by Marvel Animation. It is based on the Marvel Super Hero Squad action figure line from Hasbro, which portray the Avengers, the X-Men, and various other characters of the Marvel Universe in a cartoonish super-deformed-style. It is also a self-aware parody of the Marvel characters, with influences taken from on the comedic Mini Marvels series of parody comic books, in that the heroes tend to find themselves in comedic situations, and have cartoonish bents in comparison to their usually serious personalities (such as The Incredible Hulk being jovial and good-natured but with "major anger issues"), and is an overall comedic take on the Avengers. The series' animation was produced by Film Roman and Marvel Animation.
CARTOON INTRO
Edit
EPISODES
SEASON 1
SEASON 2
CHARACTERS
Edit
| HEROES | VILLAINS |
| --- | --- |
| SUPER HERO SQUAD | DR. DOOM SQUAD |
| FANTASTIC FOUR | WRECKING CREW |
| HEROES FOR HIRE | HERALDS OF GALACTUS |
| AL CAPTAINS SQUAD | THANOS |
| DEFENDERS | HIGH EVOLUTIONARY |
| XAVIER ACADEMY | ALIENS |
| INVADERS | GODS |
| SQUADRON SUPREME | FOURTH REICH |
| LEGION OF MONSTERS | |
Ad blocker interference detected!
Wikia is a free-to-use site that makes money from advertising. We have a modified experience for viewers using ad blockers

Wikia is not accessible if you've made further modifications. Remove the custom ad blocker rule(s) and the page will load as expected.