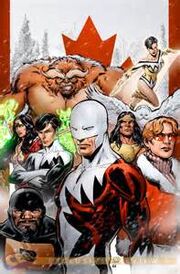 Alpha Flight is a fictional superhero team published by Marvel Comics, noteworthy for being one of the few Canadian superhero teams. Created by John Byrne, the team first appeared in Uncanny X-Men #120 (April 1979). Alpha Flight is noted for being "Canada's answer to the Avengers." Most team members have distinctly Canadian attributes, such as Inuit or First Nations heritage. Throughout most of its history, the team has worked for Department H, a fictional branch of Canada's Department of National Defence that deals with super-powered villains. The team was originally merely a part of the backstory of the X-Men's Wolverine but, in 1983, Byrne launched an eponymous series featuring the group, which continued until 1994. Four short-lived revivals have been attempted since. After the resurrection of the team in the one shot comic Chaos War: Alpha Flight which was published as part of the Chaos War event, they went on to star in an eight-issue limited series in 2011.
Section heading
Edit
Write the second section of your page here.
Ad blocker interference detected!
Wikia is a free-to-use site that makes money from advertising. We have a modified experience for viewers using ad blockers

Wikia is not accessible if you've made further modifications. Remove the custom ad blocker rule(s) and the page will load as expected.