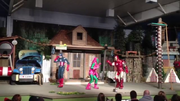 MARVEL COMICS IN THE MEDIA
YOUTUBE FOOTAGE
Edit
WHAT WE KNOW:
Edit
Columbus Zoo - Boo at the ZooMarvel Super Heroes: Avengers Assemble LIVE Action Showfeaturing Thor, Captain America, Iron Man, the Hulk, and the Green Goblin. The Mighty Marvel Avengers star in this 30 minute educational, humorous and action-packed show that starts out focusing on safety issues and soon spirals into action packed chaos. Nightly at the Animals on Safari Stage: 5:30 p.m. - 7:30 p.m.***Parental Caution: This show contains mock fight scenes.
Ad blocker interference detected!
Wikia is a free-to-use site that makes money from advertising. We have a modified experience for viewers using ad blockers

Wikia is not accessible if you've made further modifications. Remove the custom ad blocker rule(s) and the page will load as expected.