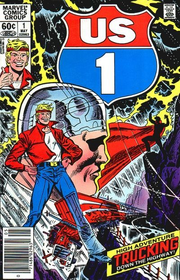 The only thing Ulysses Stone Archer (U.S. Archer) ever wanted to do was drive the big rigs, but his parents wanted him to go to college. After his parents' death, his brother Jefferson made sure he was able to go, but even after earning multiple degrees, US still wanted to drive trucks. On a haul with his brother, they were run off a cliff by the mysterious Highwayman, and US's brother disappeared. Gifted with radical new technology, U.S. used it and a super truck to try to track down the Highwayman, and to figure out what happened to his brother.
WHAT WE KNOW:
Edit
During the 1980's Marvel thought there truck driver comic book series would be a good TV cartoon, so they made a one minute cartoon press release.  It never got further than than.
Ad blocker interference detected!
Wikia is a free-to-use site that makes money from advertising. We have a modified experience for viewers using ad blockers

Wikia is not accessible if you've made further modifications. Remove the custom ad blocker rule(s) and the page will load as expected.