The series featured Peter Parker having to balance his alter ego crimefighting with his responsibilities as a university student, a part-time photographer for the Daily Bugle and caring for his elderly Aunt May Parker. The series was not as popular with fans as Spider-Man and His Amazing Friends, another animated series that aired on NBC around the same time, but Spider-Man still provided viewers with plenty of comic book villains, including Chameleon, Doctor Doom, Doctor Octopus, The Kingpin, The Lizard, Sandman, Silvermane, Vulture, Mysterio, Magneto, Red Skull, Kraven the Hunter, Wizard, Sub-Mariner, Black Cat, Medusa, and the Green Goblin. One other major difference was an overall arc, where Dr. Doom attempts to conquer Earth, while a group of rebels try to free Latveria from his rule with the help of Spider-Man.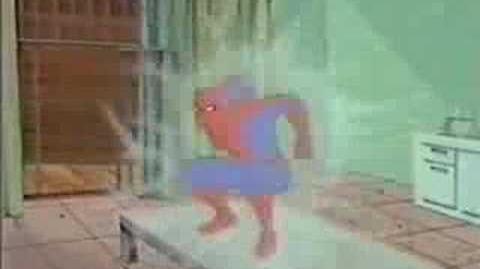 SEASON 1
BUBBLE, BUBBLE, OIL AND TROUBLE
DR. DOOM MASTER OF THE WORLD
LIZARDS, LIZARDS, EVERYWHERE
CURIOSITY KILLED THE SPIDER-MAN
THE SANDMAN IS COMING
WHEN MAGNETO SPEAKS...PEOPLE LISTEN
THE PIED PIPER OF NEW YORK TOWN
THE DOCTOR PRESCRIBES DOOM
CARNIVAL OF CRIME
REVENGE OF THE GREEN GOBLIN
TRIANGLE OF EVIL
THE A-B-C OF DOOM
THE SIDEWINDER STRIKES
THE HUNTER AND THE HUNTED
THE INCREDIBLE SHRINKING SPIDER-MAN
THE UNFATHOMABLE PROFESSOR GIZMO
CANNON OF DOOM
THE CAPTURE OF CAPTAIN AMERICA
THE DOOM REPORT
THE WEB OF NEPHILIA
CUNTDOWN TO DOOM
ARSENIC AND AUNT MAY
THE VULTURE HAS LANDED
WRATH OF THE SUB-MARINER
THE RETURN OF THE KINGPIN
UNDER THE WIZARD'S SPELL
Ad blocker interference detected!
Wikia is a free-to-use site that makes money from advertising. We have a modified experience for viewers using ad blockers

Wikia is not accessible if you've made further modifications. Remove the custom ad blocker rule(s) and the page will load as expected.