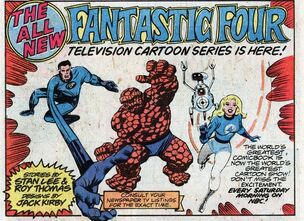 MARVEL COMICS IN THE MEDIA
Premise
It is the second animated series based on Marvel's comic book series Fantastic Four. The 1978 series replaced the character of the Human Torch with a robot named H.E.R.B.I.E., (Humanoid Experimental Robot, B-type, Integrated Electronics). A long-lasting rumor stated that this change was made by the TV network (NBC) because executives did not want young viewers to imitate the Human Torch by setting themselves on fire. This rumor proved to be untrue, as the 1978 television rights to use that character were tied up by a proposed television pilot movie in development by Universal Studios (now a sister company to NBC) that ended up never being produced.
EPISODES:
Edit
SEASON 1
A MONSTER AMONG US
THE MENACE OF MAGNETO
THE PHANTOM OF FILM CITY
MEDUSA AND THE INHUMANS
THE DIAMOND OF DOOM
THE MOLE MAN
THE OLYMPICS FROM SPACE
THE FANTASTIC FOUR MEETS DR. DOOM
THE FRIGHTFUL FOUR
CALAMITY ON CAMPUS
THE IMPOSSIBLE MAN
THE FINAL VICTORY OF DR. DOOM
BLASTAAR, THE LIVING BOMB BURST
Ad blocker interference detected!
Wikia is a free-to-use site that makes money from advertising. We have a modified experience for viewers using ad blockers

Wikia is not accessible if you've made further modifications. Remove the custom ad blocker rule(s) and the page will load as expected.