INDEPENDENT COMICS IN THE MEDIA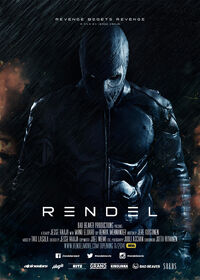 The first of three Official Teaser Trailers for Rendel The Movie (2016). Rendel is a Finnish comic character created by the director Jesse Haaja . Rendel will be the first Finnish superhero movie ever and it has already drawn a great deal of attention and positive fan feedback worldwide. Rendel is Independent Film. 
A Film by Jesse Haaja with Manu EloahoDirector of photography Henrik MennanderWritten by Jere KoistinenMusic by Tiko Lasola
CAST:
Kris Gummerus: Rendel
Matti Onnismaa: Mr. Erola
Rami Rusinen: Rotikka
Alina Tomnikov: Marla
Minttu Tamski: Anette
Roosamaria Mäkinen: Enni 
Sami Huhtala: VALA Henchman 1
Marko Pesonen: VALA Henchman 2
Toivo Rolser: VALA Henchman 3
Michael Majalahti: VALA Henchman 4
Jenny Mäki-Jaakkola: Crack Whore 
Ad blocker interference detected!
Wikia is a free-to-use site that makes money from advertising. We have a modified experience for viewers using ad blockers

Wikia is not accessible if you've made further modifications. Remove the custom ad blocker rule(s) and the page will load as expected.