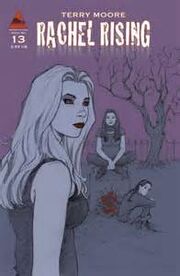 INDEPENDENT COMICS IN THE MEDIA
WHAT WE KNOW:
Edit
Indie comics legend Terry Moore's most recent series, "Rachel Rising," has just been picked up by the television arm of Alcon Entertainment, says The Hollywood Reporter.
While the show does not yet have a network, it does have some producers lined up. Moore, who created the series and continues to write and draw every issue, will be the executive producer alongside Lloyd Levin, who previously worked on the two "Hellboy" films and "Watchmen." Joining them are Andrew Kosove, Sharon Hall and Broderick Johnson from Alcon. Ben Robers, a former production consultant on AMC's "The Walking Dead," will be on hand as producer.
This isn't the first time that Levin and Moore have teamed up. Levin previously optioned Moore's earlier series "Echo" as a feature film, but that 2009 deal has yet to result in an adaptation of Moore's work.
"Rachel Rising" is Moore's third indepdendently published ongoing series, following the cult classic "Strangers in Paradise" and 2008's "Echo." "Rachel Rising," which debuted in 2011, follows the title character as she wakes up in her grave, claws her way out, and goes about solving the mystery surrounding her death. Like Moore's other series, "Rachel Rising" expertly displays real life drama, ripe with human emotion, mixed in with bits of the supernatural.
Moore has also done work for Marvel Comics, writing both "Runaways" and "Spider-Man Loves Mary Jane" in 2008.
Section heading
Edit
Write the second section of your page here.
Ad blocker interference detected!
Wikia is a free-to-use site that makes money from advertising. We have a modified experience for viewers using ad blockers

Wikia is not accessible if you've made further modifications. Remove the custom ad blocker rule(s) and the page will load as expected.