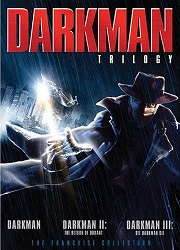 INDEPENDENT COMICS IN THE MEDIA
TV SERIES
Edit
Universal Television financed a 30-minute television pilot based on Darkman, which was made in 1992 and was to be shown on Fox. The pilot retold the origin of the character (with some alterations) and introduced several new characters. Christopher Bowen starred in the role of Peyton Westlake/Darkman, Larry Drake reprised his role of Robert G. Durant, and Kathleen York played the cop, Jenny.
The origin is similar to the one in the original film as Peyton discovers his synthetic skin, is attacked and left for dead by Durant and his gang. In this version, however, Peyton is already married to Julie, and she is killed in the explosion. As in the films, Westlake becomes the Darkman, and seeks vengeance on Durant and his gang. Darkman's headquarters are based in an abandoned observatory overlooking the city, and he is wanted by the police for his actions against Durant's gang. The pilot ends with some scenes from the first movie (particularly of Darkman and Durant fighting) and Darkman stating that Justice will answer with a brand new face.
FAN FILMS
Edit
Ad blocker interference detected!
Wikia is a free-to-use site that makes money from advertising. We have a modified experience for viewers using ad blockers

Wikia is not accessible if you've made further modifications. Remove the custom ad blocker rule(s) and the page will load as expected.