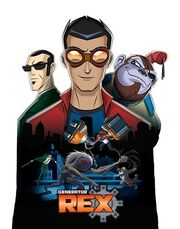 http://i424.photobucket.com/albums/pp327/monitor_ep/comic%20books%20in%20the%20media%20photos/Image_Comics_logo_svg_zpsde9c8b8b.png
Generator Rex is an American science fiction "nanopunk" action animated television series created by Man of Action Studios for Cartoon Network. John Fang of Cartoon Network Studios serves as supervising director. It is inspired by the comic M. Rex, published by Image Comics in 1999. The series premiered in the United States on April 23, 2010, on Cartoon Network. Generator Rex is rated TV-PG.[2] The last episode of the third season had aired on January 3, 2013.
Five years prior to the series, a massive explosion released high concentrations of nanites into the atmosphere, infecting almost every living thing on Earth. These nanites may randomly activate inside their hosts, mutating the subject into a monster known as an E.V.O. (short for "Exponentially Variegated Organism"). Though some E.V.O.s retain sanity and human-level sanity, intelligence, and memory and are in full control of their special E.V.O. abilities; most go violently berserk and cause widespread damage, chaos, and destruction. An international organization known as Providence exists to combat the E.V.O. threat.
Rex is a fifteen-year-old (sixteen, later on in the series) amnesiac teenager who is an E.V.O. Unlike most E.V.O.s, he lacks any physical deformation but forgets about his past. He is also able to control his active nanites, allowing him to manifest a wide variety of various bio-mechanical abilities and powers. However, Rex is truly unique because he has the ability to deactivate nanites inside other E.V.O.s, effectively curing them of their monstrous mutations. Working for Providence under Agent Six, Rex uses his unique abilities to stop and cure rampant E.V.O.s. His archenemy is Van Kleiss, an E.V.O. scientist who hates and despises Providence. He believes nanite mutations are a gift and should be utilized accordingly. Van Kleiss is connected not only to the original Event which released the nanites upon the world, but to Rex himself. Though it was never stated Rex may have the ability to turn himself into the mechanical E.V.O. in the episode "Promises, Promises" in season one, this was shown to be theoretically possible when Rex started combining his E.V.O. powers so if he were to combine them all it could make him into the giant bio-mechanical E.V.O. previously seen and mentioned.
SEASONS
SEASON 1
SEASON 2
SEASON 3
Ben 10/Generator Rex: Heroes United
COMIC BOOK BIO
Edit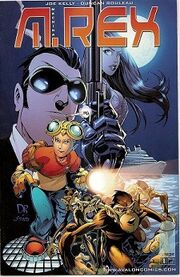 Imagine a world where super-computers conspire with toaster ovens to unseat mankind as the dominant species. A place where Monkeys connive, gator-men prognosticate, and Monsters unionize... Where your heart is a living nanotech colony, with billions of microscopic robots protecting you from certain death... While in exchange, your life-force ?lls their battery cores, giving them not only energy, but purpose, identity... Soul... Oh, yeah... And what if these same tiny atomic tools are programmed to spontaneously forge any weapon, vehicle, or object you can imagine? As a twelve-year-old boy... You've got one hell of an imagination, and  with it, you'll either save the human race...
Or utterly and completely destroy it.
Ad blocker interference detected!
Wikia is a free-to-use site that makes money from advertising. We have a modified experience for viewers using ad blockers

Wikia is not accessible if you've made further modifications. Remove the custom ad blocker rule(s) and the page will load as expected.