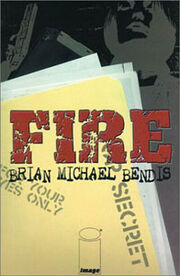 http://i424.photobucket.com/albums/pp327/monitor_ep/comic%20books%20in%20the%20media%20photos/Image_Comics_logo_svg_zpsde9c8b8b.png
COMIC BOOK INFO:
Edit
Imagine that you are a shy, quiet college student. Just an average guy trying to get through each day as best he can. Then your government contacts you. They want you to be part of an experiment in the art of human covert operations. Instead of creating an agent from someone within their own ranks, they want to create an agent from nobody, from scratch, from you! Loosely based on events in the American intelligence community during the Reagan administration, Fire tells the unique and powerful story of a young man's journey through the complex world of international intelligence. Fire was Bendis' first major work and helped him attract and develop a new audience for crime graphic novels that he would further challenge in later works such as Jinx, Goldfish, Torso, and Powers.
MOVIE INFO: WHAT WE KNOW
Edit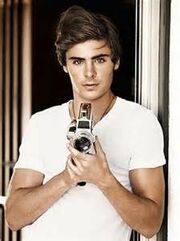 Writer Jesse Wigutow, penning Disney's
Tron
sequel, has reportedly closed a deal with to adapt Brian Bendis' Fire, for Zac Efron to star.
Fire
is based on the 1993 Caliber Comics title by Bendis later collected by Image.
Fire is about "a college student (Efron) who is recruited by the CIA only to find out he is being trained for a program that churns out expendable spies."
According to Deadline, Efron and Bendis sold the project to Universal during the Sundance Film Festival in 2010 with Efron attached to star from a script by Bendis. But Tuesday news seems to indicate Wigutow will take over scripting duties from Bendis.
Ad blocker interference detected!
Wikia is a free-to-use site that makes money from advertising. We have a modified experience for viewers using ad blockers

Wikia is not accessible if you've made further modifications. Remove the custom ad blocker rule(s) and the page will load as expected.