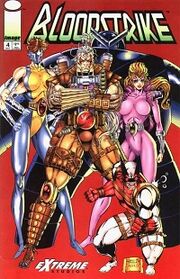 http://i424.photobucket.com/albums/pp327/monitor_ep/comic%20books%20in%20the%20media%20photos/Image_Comics_logo_svg_zpsde9c8b8b.png
WHAT WE KNOW:
Edit
Producer Adi Shankar is teaming with the comic series creator Rob Liefeld and his manager Brooklyn Weaver on a film version of Bloodstrike.

Edit
COMIC BOOK BIO:
Edit
Bloodstrike is a fictional team of action/adventure super agents, originally  published by Rob Liefeld's Extreme Studios of Image Comics in the 1990s.
Bloodstrike was a top-secret, super-powered assassination squad deployed  covertly by the United States government. All of the members had already died  before becoming members of the team; they were brought back to life by the  government's Project: Born Again.
Ad blocker interference detected!
Wikia is a free-to-use site that makes money from advertising. We have a modified experience for viewers using ad blockers

Wikia is not accessible if you've made further modifications. Remove the custom ad blocker rule(s) and the page will load as expected.