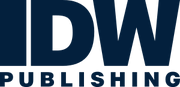 COMIC BOOKS IN THE MEDIA

IDW was formed by entertainment executives and comic book artists Ted Adams, Alex Garner, Kris Oprisko, and Robbie Robbins. The goal of the fledgling company was to build a strong client base and work on projects they enjoyed, ranging from movies, to comic books and trading cards, to name a few. Services that IDW initially provided included character design, conceptual artwork, trading card games, online and print style guides, and of course, comic books. IDW's client base includes: Activision, BBC, Cartoon Network, Electronic Arts, Microsoft, Simon & Schuster, Upper Deck, and various movie studios.
IDW IN THE MEDIA
Edit
IDW FRANCHISES:
Edit
Ad blocker interference detected!
Wikia is a free-to-use site that makes money from advertising. We have a modified experience for viewers using ad blockers

Wikia is not accessible if you've made further modifications. Remove the custom ad blocker rule(s) and the page will load as expected.