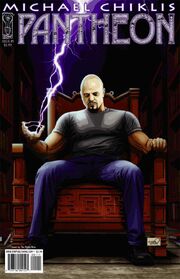 http://i424.photobucket.com/albums/pp327/monitor_ep/comic%20books%20in%20the%20media%20photos/IDWLOGO_zps41127b4a.jpg
WHAT WE KNOW
Edit
Deadline is reporting that actor Michael Chiklis is dusting off his 2010 IDW comic series Pantheon and producing it as a live-action television series with IDW's recently initiated television division, IDW Entertainment. The prospective television series will be a co-production of IDW and Circle of Confusion, who have been party to several successful comics-to-film adaptations. Pantheon was published by IDW as a five issue series, and centered on the Greek gods returning to Earth in the near future and finding it a near chaotic state, leaning towards an Armageddon. In it, the Greek god Zeus leads a contingent of fellow gods against his father, the Titan Cronus, and his allies.
"As a kid, Greek Gods were very real to me, so the chance to bring my childhood heroes and villains to life in the modern world is irresistible," said Chiklis about the series in a press release released in 2010. "Besides, I couldn't say no to Zeus. . . no one in the family would ever talk to me again."
Chiklis is a third-generation Greek-American, and also a well-known comics fan. In addition to appearing as Ben Grimm/The Thing in both Fantastic Fourmovies, Chiklis also starred in the superhero family series No Ordinary Family in 2010. Chiklis created Pantheon with comics writer Marc Andreyko as well as Anny Simon Beck.
Chiklis, IDW and Circle of Confusion plan to develop the Pantheon television series internally and then shop it around to networks. At this time no cast has been announced, but in the Pantheon comic series one of the character's likeness is based on Chiklis himself.
Section heading
Edit
Write the second section of your page here.
Ad blocker interference detected!
Wikia is a free-to-use site that makes money from advertising. We have a modified experience for viewers using ad blockers

Wikia is not accessible if you've made further modifications. Remove the custom ad blocker rule(s) and the page will load as expected.