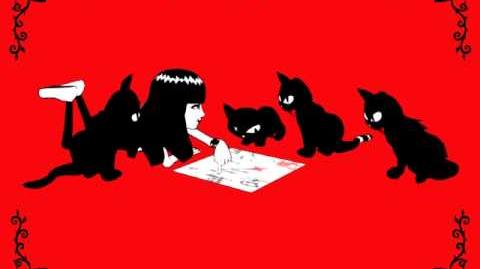 Emily the Strange is an advertising mascot character by Rob Reger for his company Cosmic Debris Etc. Inc.
In the early 1990's came to life on hand-screend t-shirts and stickers and became quickly a popular icon among alternative-minded young women and girls who identify with her signature singularity. In her earliest years, she was a quiet but sharp-witted stranger, slinging philosophy and cultural observations.As her presence grew she became a standard in the cultural underground, Emily's own story began to emerge in a series of gift books, then comic-books and graphic novels, and now a novel series for young adults.
Emily became more and more an example for individualism and self-awareness and reminds us all to cultivate that which makes us unique
Unlike usual 13-year old girls pink is Emily's worst nightmare. She wears the same simple black dress all the time.
She has long black hair with bangs. Always followed by her catgang. She loves maths and science and likes to listen to Punk and old Rock, but also digs newer bands like My Chemical Romance (which lead singer Gerard Way was featured in her Dark Horse comic book, Revenge at Last!)
She likes to work in her lab and create Zonster. DO IT YOURSELF! is her slogan.
Emily is an artist, an inventor, a dreamer, a scientist and a skater.
Where we are:
Edit
Rob Reger designed and included the Emily the Strange cartoon in a 12-page foldout booklet for the album BatBox by Miss Kittin in 2008.
Since 2000, Rob Reger has been trying to make a feature film adaptation of Emily. In 2005, it was reported that Fox Animation would make a live action/animated feature film, with Chris Meledandri and John Cohen producing it.  In 2008, it was reported that Mike Richardson, of Dark Horse Entertainment, had come on board as a producer.  The same year it was unofficially reported that the film has moved to Universal Studios' owned Illumination Entertainment, along with the studio's founders, Meledandri and Cohen.  In September 2010, it was reported that Universal Studios has acquired the rights to the comic, and that the actress Chloë Grace Moretz has been cast in the role of Emily.  In August 2011, it was announced that Melisa Wallack, who wrote the script for Mirror Mirror, had been hired to write the adaptation.  Two months later it was confirmed that the film is indeed in the works at Illumination Entertainment.  Kealan O'Rourke will rewrite the film's script
Ad blocker interference detected!
Wikia is a free-to-use site that makes money from advertising. We have a modified experience for viewers using ad blockers

Wikia is not accessible if you've made further modifications. Remove the custom ad blocker rule(s) and the page will load as expected.