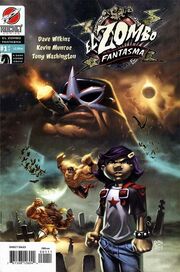 In Development
Comic Book History
Edit
El Zombo is the story of the unlikely friendship between a temperamental undead wrestler and an equally difficult 10-year-old girl from East L.A. Pro wrestling champ El Zombo gets a second lease on life after being unceremoniously murdered in a back alley for refusing to take a dive in the ring. His deal is to return to Earth to help Belisa Montoya?a troubled girl about to fall victim to a horrible unknown accident. Returning at first for selfish reasons of revenge, El Zombo soon finds himself at a crossroads, forced to choose between his own vengeance and saving the life of this girl he now deeply cares for. El Zombo #1 is the first of a three issue series.
Section heading
Edit
Write the second section of your page here.
Ad blocker interference detected!
Wikia is a free-to-use site that makes money from advertising. We have a modified experience for viewers using ad blockers

Wikia is not accessible if you've made further modifications. Remove the custom ad blocker rule(s) and the page will load as expected.