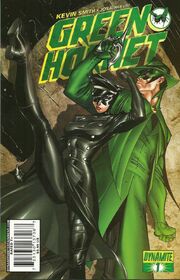 http://i424.photobucket.com/albums/pp327/monitor_ep/comic%20books%20in%20the%20media%20photos/Dynamite_logo_zps21d61b1d.png
WHAT WE KNOW:
Edit
Its first release was a miniseries written by Kevin Smith with pencils by Jonathan Lau.[17][18] Revamped in 2010 as an ongoing series set in modern times, the new Green Hornet stars Britt Reid, Jr., the rebellious and spoiled son of Britt Reid, Sr., now a retired industrial and family man. When Britt Sr. is slain by the Black Hornet, a yakuza mobster whose family was shamed by the original Green Hornet, the aging but still fit Kato returns. With his daughter, Mulan Kato, who has taken over the costumed identity of her father, he brings Britt Jr. to China for training and safekeeping as he becomes the new Green Hornet.
Section heading
Edit
Write the second section of your page here.
Ad blocker interference detected!
Wikia is a free-to-use site that makes money from advertising. We have a modified experience for viewers using ad blockers

Wikia is not accessible if you've made further modifications. Remove the custom ad blocker rule(s) and the page will load as expected.