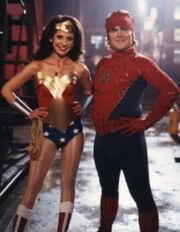 MARVEL VS DC COMICS IN THE MEDIA
YOUTUBE CLIP
Edit
This is another one of those short movies made for the MTV Movie Awards. In this one Tobey Maguire becomes Jack Black as Spider-Man after he is bitten by a spider that had Jack Black's head. Sarah Michelle Gellar is the 'love-interest'. Some very nice jokes including one with Yoda make this a hilarious short.
Ad blocker interference detected!
Wikia is a free-to-use site that makes money from advertising. We have a modified experience for viewers using ad blockers

Wikia is not accessible if you've made further modifications. Remove the custom ad blocker rule(s) and the page will load as expected.