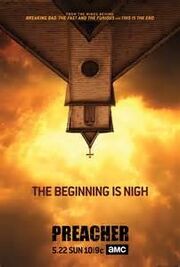 OVERALL PLOT:
Edit
Based on the twisted and popular '90s comic book franchise of the same name, "Preacher," created by Garth Ennis and Steve Dillon, is the story of Jesse Custer (Dominic Cooper) a conflicted Preacher in a small Texas town who is inhabited by a mysterious entity that allows him to develop a highly unconventional power. Jesse, his ex-girlfriend, Tulip (Ruth Negga), and an Irish vampire named Cassidy (Joseph Gilgun) embark on a journey to, literally, find God.They are thrust into a crazy world populated by a cast of characters from Heaven, Hell and everywhere in between.   The Sony Pictures Television and AMC Studios co-production was developed for television by Seth Rogen & Evan Goldberg ("This Is the End," "Superbad," "Neighbors") and showrunner Sam Catlin ("Breaking Bad"). The series is set to premiere mid-2016.
EPISODES:
Edit
MONITOR'S NOTES: Weblinks
Edit
Ad blocker interference detected!
Wikia is a free-to-use site that makes money from advertising. We have a modified experience for viewers using ad blockers

Wikia is not accessible if you've made further modifications. Remove the custom ad blocker rule(s) and the page will load as expected.