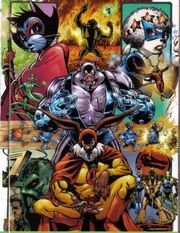 DC COMICS IN  THE MEDIA
LEGION OF SUPER-PETS IN THE MEDIA

One this page you will be able to see the DC "Funny Animals" that have shown up in the media.  From Captain Carrot and his Amazing Zoo Crew, DC Super-Pets, Farm League, and the members of the Legion of Pets (Krypto the Super Dog, Streay the Super Cat, Ace the Bathound, and the other Super-pets).
ZOO CREW IN THE MEDIA:
Edit
LEGION OF SUPER-PETS:
Edit
Superman & Supergirl's superpets in one team! The team includes Krypto the Superdog, Streaky the Supercat, Comet the Superhorse, Proty and Beppo the Supermonkey.
MONITOR'S NOTES: Websites
Edit