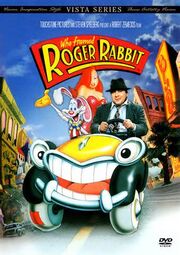 DC Comics: Zoo Crew in the Media
WHAT WE KNOW:
Edit
In one scene during the "Who framed Roger Rabbit" film Private Detective Eddie Valiant was living Maroon;s office and a frog wearing a bowler hat is seen jumping up the stairs.
Now this frog is not listed on most websites but he was either Fennimore Frog of the Frog and Dodo comic and later Captain Carrot and his Amazing Zoo Crew or WB! Michigan J. Frog.
Ad blocker interference detected!
Wikia is a free-to-use site that makes money from advertising. We have a modified experience for viewers using ad blockers

Wikia is not accessible if you've made further modifications. Remove the custom ad blocker rule(s) and the page will load as expected.