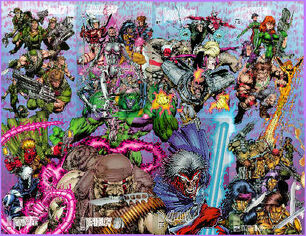 DC COMICS IN THE MEDIA

WildStorm Productions, or simply WildStorm, (often rendered Wildstorm) published American comic books. Originally an independent company established by Jim Lee and further expanded upon in subsequent years by other creators, WildStorm became a publishing imprint of DC Comics in 1999. Until it was shut down, the WildStorm imprint remained editorially separate from DC Comics, with its main studio located on the West Coast. The imprint took its name from the combining of the titles of the Jim Lee comic series WildC.A.T.S. and Stormwatch. WildStorm published common American comics, as well as creator-owned material and licensed properties from other companies, covering a wide variety of genres. Its main fictional universe, the Wildstorm Universe, features typical costumed heroes in various scenarios.

Here you will be able to see the Wildstorm characters in the media
WILDSTORM IN THE MEDIA:
Edit
NON-RELATED WILDSTORM IN THE MEDIA:
Edit
Ad blocker interference detected!
Wikia is a free-to-use site that makes money from advertising. We have a modified experience for viewers using ad blockers

Wikia is not accessible if you've made further modifications. Remove the custom ad blocker rule(s) and the page will load as expected.