Captain Marvel, also known as Shazam, is a fictional superhero created in 1939 by artist C. C. Beck and writer Bill Parker. Originally published by Fawcett Comics and later by DC Comics, he first appeared in Whiz Comics #2 (February 1940) with a premise that taps adolescent fantasy.
Shazam is the alter ego of Billy Batson, who works as a radio news reporter and was chosen to be a champion of good by an ancient wizard (also named Shazam). Whenever Billy speaks the word "Shazam!", he is struck by a magic lightning bolt that transforms him into an adult superhero empowered with the abilities of six archetypal, historical figures.[1] Several friends and family members, most notably Marvel Family/Shazam Family cohorts Mary Marvel and Captain Marvel Jr. can share Billy's power and become "Marvels" themselves.

Here you will be able to see the Earth 5 the Marvel Family and the Shazam Squadron.
CAPTAIN MARVEL - SHAZAM IN THE MEDIA
Edit
Here you will be able to see Captain Marvel in the media.
SHAZAM FAMILY
Edit
Here you will be able to view the Shazam Family in the media.
SHAZAM SQUADRON OF JUSTICE
Edit
Here you will be able to view the Shazam Squadron of Justice in the media.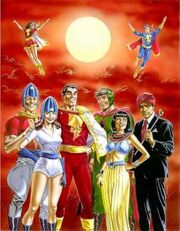 Ad blocker interference detected!
Wikia is a free-to-use site that makes money from advertising. We have a modified experience for viewers using ad blockers

Wikia is not accessible if you've made further modifications. Remove the custom ad blocker rule(s) and the page will load as expected.