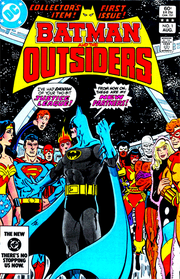 The Outsiders is a group of non-primary superheroes in the DC Universe that has become the "frontline" team that handles major threats that are endangering the Earth and its people since Batman's apparent demise.

Here you will be able to see the Outsiders in the media
OUTSIDERS IN THE MEDIA
Edit
OUTSIDER SOLO APPEARANCES IN THE MEDIA
Edit
Ad blocker interference detected!
Wikia is a free-to-use site that makes money from advertising. We have a modified experience for viewers using ad blockers

Wikia is not accessible if you've made further modifications. Remove the custom ad blocker rule(s) and the page will load as expected.