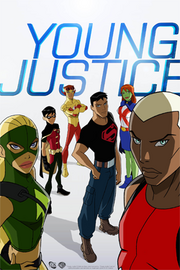 Young Justice (dubbed Young Justice: Invasion for the second season of the series) is an Emmy Award winning American animated television series created by Brandon Vietti and Greg Weisman for Cartoon Network. Despite its title, it is not a direct adaptation of Peter David, Todd Dezago and Todd Nauck's Young Justice comic series, but rather an adaptation of the entire DC Universe with a focus on young superheroes. The series follows the lives of teenaged heroes and sidekicks who are members of a fictional covert operation group called The Team. The Team is essentially a young counterpart to the famous adult team, the Justice League.
OVERALL PLOT
Edit
The pilot episode (later re-broadcast as the opening two episodes of season 1) aired a month prior to the debut of the regular series and introduced four characters: Robin, Aqualad, Kid Flash, and Speedy. It established their desire for greater recognition and respect, namely, a promotion from sidekicks to full-fledged superheroes. Met with opposition from their respective mentors in the Justice League, Batman, Aquaman, Flash, and Green Arrow, the protégés react in different ways. Speedy resigns from being Green Arrow's partner and begins calling himself Red Arrow. The others seek to persuade their mentors of their worth by secretly taking on a Justice League mission to investigate the Cadmus building. During their infiltration of Cadmus' headquarters, the three heroes find a clone of Superman named Superboy. After the discovery, the team finds out Cadmus is creating living weapons called Genomorphs. The episode deals with this revelation, the origin of Superboy, and how this relates to a mysterious group of people called the Light. In the end, Robin, Aqualad, Kid Flash, and Superboy negotiate with Batman to organize a covert operations team as a practical contrast to the Justice League, whose celebrity status makes it difficult to maintain secrecy or initiate stealth operations. After consulting with his colleagues, Batman establishes Young Justice in a secret cave located inside a former Justice League headquarters, Mount Justice, a hollowed-out mountain. Here the teens are trained and mentored by the Justice League. Miss Martian makes an appearance at the end of the episode and joins as the fifth member.
EPISODES:
Edit
| SEASON 1 | SEASON 2 |
| --- | --- |
| 01 INDEPENDANCE DAY | HAPPY NEW YEAR |
| 02 FIREWORKS | EARTHLINGS |
| 03 WELCOME TO HAPPY HARBOR | ALIENATED |
| 04 DROP-ZONE | SALVAGE |
| 05 SCHOOLED | BENEATH |
| 06 INFILTRATOR | BLOODLINES |
| 07 DENIAL | DEPTHS |
| 08 DOWNTIME | SATISFACTION |
| 09 BEREFT | DARKEST |
| 10 TARGETS | BEFORE THE DAWN |
| 11 TERRORS | CORNERED |
| 12 HOMEFRONT | TRUE COLORS |
| 13 ALPHA MALE | THE FIX |
| 14 REVELATION | RUNAWAYS |
| 15 HUMANITY | WAR |
| 16 FAILSAFE | COMPLICATIONS |
| 17 DISORDERED | THE HUNT |
| 18 SECRETS | INTERVENTION |
| 19 MISPLACED | SUMMIT |
| 20 COLDHEARTED | ENDGAME |
| 21 IMAGE | |
| 22 AGENDAS | |
| 23 INSECURITY | |
| 24 PERFORMANCE | |
| 25 USUAL SUSPECTS | |
| 26 AULD ACQUAINTANCE | |
Ad blocker interference detected!
Wikia is a free-to-use site that makes money from advertising. We have a modified experience for viewers using ad blockers

Wikia is not accessible if you've made further modifications. Remove the custom ad blocker rule(s) and the page will load as expected.