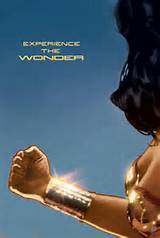 http://i424.photobucket.com/albums/pp327/monitor_ep/comic%20books%20in%20the%20media%20photos/WONDERWOMANLOGO_zps74376d9d.jpg
WHAT WE KNOW:
Edit
In March 2005, Warner Bros. and Silver Pictures announced that Joss Whedon would write and direct the film adaptation of Wonder Woman. Whedon's salary was reported to be between $2 to $3 million.  Since Whedon was directing Serenity at the time, and required time to research Wonder Woman's background, he did not begin the screenplay until late 2005. According to Joel Silver, the script would cover Wonder Woman's origin and include Steve Trevor: "Trevor crashes on the island and they go back to Man's World." Silver wanted to film Wonder Woman in Australia once the script was completed. While Whedon stated in May 2005 that he would not cast Wonder Woman until he finished the script, Charisma Carpenter and Morena Baccarin expressed interest in the role.
After nearly two years as script-writer, Whedon had not managed to write a finished draft. "It was in an outline, and not in a draft, and they [studio executives] didn't like it. So I never got to write a draft where I got to work out exactly what I wanted to do." In February 2007, Whedon departed from the project, citing script differences with the studio. Whedon reiterated: "I never had an actress picked out, or even a consistent front-runner. I didn't have time to waste on casting when I was so busy air balling on the script." Whedon stated that with the Wonder Woman project left behind, he would focus on making his film Goners.
Ad blocker interference detected!
Wikia is a free-to-use site that makes money from advertising. We have a modified experience for viewers using ad blockers

Wikia is not accessible if you've made further modifications. Remove the custom ad blocker rule(s) and the page will load as expected.