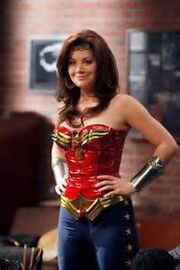 http://i424.photobucket.com/albums/pp327/monitor_ep/comic%20books%20in%20the%20media%20photos/WONDERWOMANLOGO_zps74376d9d.jpg
Harry's Law is an American legal comedy-drama television series created by David E. Kelley, which premiered on NBC on January 17, 2011. The show revolves around Harriet Korn (Kathy Bates), a recently fired patent lawyer, and her group of associates as they come together to form a unique law practice in a rundown shoe store in Cincinnati
Behind the scenes: Gorilla My Dreams
Edit
== "Gorilla My Dreams"
Bill D'Elia
David E. Kelley & Amanda Johns
January 11, 2012
season 2 episode11
Harry and Tommy fight for the rights of a gorilla that has been hidden on a hunting preserve, while Adam, Oliver, and Cassie represent a woman (Erica Durance) who takes revenge on abusive men while masquerading as Wonder Woman.==
Ad blocker interference detected!
Wikia is a free-to-use site that makes money from advertising. We have a modified experience for viewers using ad blockers

Wikia is not accessible if you've made further modifications. Remove the custom ad blocker rule(s) and the page will load as expected.