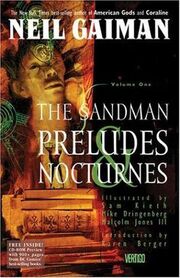 ABOUT THE STORY:
Edit
In PRELUDES & NOCTURNES, an occultist attempting to capture Death to bargain for eternal life traps her younger brother Dream instead. After his 70 year imprisonment and eventual escape, Dream, also known as Morpheus, goes on a quest for his lost objects of power. On his arduous journey Morpheus encounters Lucifer, John Constantine, and an all-powerful madman.
Includes issues 1-8 of the original series with completely new coloring, approved by the author.
WHAT WE KNOW:
Edit
It has been announced that David S. Goyer will be producing an adaptation of the graphic novel, alongside Joseph Gordon-Levitt and Neil Gaiman. Gordon-Levitt is also attached to star and possibly to direct. An additional writer will be hired to write the script.
Ad blocker interference detected!
Wikia is a free-to-use site that makes money from advertising. We have a modified experience for viewers using ad blockers

Wikia is not accessible if you've made further modifications. Remove the custom ad blocker rule(s) and the page will load as expected.