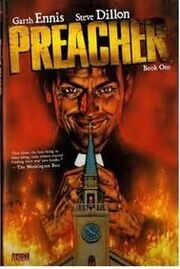 WHAT WE KNOW: HBO deal
Edit
With the full-length film adaptation eventually abandoned with budgetary concerns, HBO announced in November 2006 that they commissioned Mark Steven Johnson and Howard Deutch to produce a television pilot. Johnson was to write with Deutch directing. Impressed with Johnson's pilot script, HBO had him write the series bible for the first season. Johnson originally planned "to turn each comic book issue into a single episode" on a shot-for-shot basis. "I gave [HBO] the comics, and I said, 'Every issue is an hour'. Garth Ennis said 'You don't have to be so beholden to the comic'. And I'm like, 'No, no, no. It's got to be like the comic'."
Johnson also wanted to make sure that one-shots were included as well. Johnson changed his position, citing new storylines conceived by Ennis. "Well, there would be nothing new to add if we did that, so Garth [Ennis] and I have been creating new stories for the series," he said. "I love the book so much and I was telling Garth that he has to make the stories we are coming up with as comics because I want to see them." By August 2008, new studio executives at HBO decided to abandon the idea, finding it too stylistically dark and religiously controversial. Columbia Pictures then purchased the film rights in October 2008 with Sam Mendes directing. Neal H. Moritz and Jason Netter are producing the film. The previous scripts written by Ennis will not be used
Ad blocker interference detected!
Wikia is a free-to-use site that makes money from advertising. We have a modified experience for viewers using ad blockers

Wikia is not accessible if you've made further modifications. Remove the custom ad blocker rule(s) and the page will load as expected.