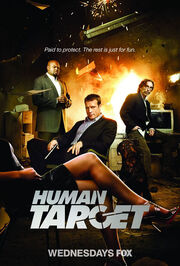 DC COMICS IN THE MEDIA
Human Target is an American action drama television series that was broadcast by Fox in the United States. Based loosely on the Human Target comic book character created by Len Wein and Carmine Infantino for DC Comics, it is the second series based on this title developed for television, the first TV series having been aired in 1992 on ABC. Developed by Jonathan E. Steinberg, Human Target premiered on CTV in Canada and on Fox in the United States in January 2010. The series was officially canceled on May 10, 2011, after the conclusion of the second season.
The series follows the life of San Francisco-based Christopher Chance (Mark Valley), a unique private contractor, bodyguard and security expert hired to protect his clients. Rather than taking on the target's identity himself (as in the comic book version), he protects his clients by completely integrating himself into their lives, to become a "human target". Chance is accompanied by his business partner Winston (Chi McBride) and hired gun Guerrero (Jackie Earle Haley). Former client Ilsa Pucci (Indira Varma) becomes Chance's benefactor, while experienced thief Ames (Janet Montgomery) joins the team to seek redemption. Chance puts himself on the line to find the truth behind the mission. Even his own business partner Winston does not know what drove him towards this life, although it is explained in the first season finale episode (which also explains about the name Christopher Chance itself).
EPISODES:
Edit
The El Rey Channel is currently rerunning The Human Target on Tuesdays during the summer of 2016.
Ad blocker interference detected!
Wikia is a free-to-use site that makes money from advertising. We have a modified experience for viewers using ad blockers

Wikia is not accessible if you've made further modifications. Remove the custom ad blocker rule(s) and the page will load as expected.