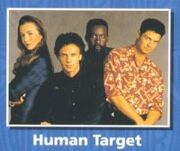 DC COMICS IN THE MEDIA
Human Target is an American action drama television series broadcast by ABC in the United States. It is based on the comic book character of the same title created by Len Wein and Carmine Infantino, and developed for television by Danny Bilson and Paul DeMeo. The seven-episode series premiered on July 20, 1992, and last aired on August 29, 1992.
SYNOPSIS:
Edit
The series follows the adventures of Christopher Chance (Rick Springfield), a Vietnam War vet turned bodyguard and private investigator who uses advanced technology and sophisticated makeup to assume the identity of his client, becoming a human target. In a departure from the original comic book stories, Chance flies from job to job in a large, gizmo-laden stealth aircraft known as the Blackwing.  Additionally, he is assisted by computer expert Philo Marsden (Kirk Baltz), Blackwing pilot Jeff Carlyle (Sami Chester), and former CIA operative Libby Page (Signy Coleman).  Page coordinated Chance's missions, Carlyle also served as cook and chauffeur, while Marsden created new gadgets and developed the masks Chance used to impersonate his clients.  Chance took an unusual approach to compensation for his services: ten percent of his client's annual income ("whether you're a busboy or the king of England"). One reviewer described the show as "50 percent Mission: Impossible (Martin Landau's master of disguise character) and 50 percent Quantum Leap (jumping into other people's lives at moments of crisis).
EPISODES:
Edit
SEASON 1
00 UNAIRED PILOT
01 PILOT
02 SECOND CHANCE
03 DESIGNED BY CHANCE
04 MIRROR IMAGE
05 COOL HAND CHANCE
06 GOING HOME
07 CHANCES ARE
Ad blocker interference detected!
Wikia is a free-to-use site that makes money from advertising. We have a modified experience for viewers using ad blockers

Wikia is not accessible if you've made further modifications. Remove the custom ad blocker rule(s) and the page will load as expected.