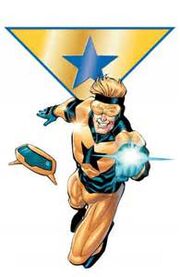 WHAT WE KNOW:
Edit
SyFy ordered a live action Booster Gold series with Greg Berlanti and Andrew Kreisberg as executive producers with Berlanti's production company Berlanti Productions. Kreisberg confirmed that the series takes place in the same universe Arrow does. Kreisberg was reported as being expected to deliver the script to SyFy in early June 2013.  The series, which follows the antics of the time-displaced superhero with mercenary sensibilities, is planned to be heavily influenced by the character's first monthly comic book series from the 1980s, in which Booster's commercialist side was more prevalent than it was in the more recent volume, which focused on the character as a guardian of the timestream. Obscure old supporting players like his onetime manager Dirk Davis and secretary Trixie Collins were said to appear in the pilot. Rip Hunter, Booster's time-travel mentor and (unknown to him) son, appeared in both volumes of the series and will likely have a prominent role in the pilot.
Ad blocker interference detected!
Wikia is a free-to-use site that makes money from advertising. We have a modified experience for viewers using ad blockers

Wikia is not accessible if you've made further modifications. Remove the custom ad blocker rule(s) and the page will load as expected.