http://i424.photobucket.com/albums/pp327/monitor_ep/comic%20books%20in%20the%20media%20photos/TEENTITANSLOGO_zps9dceee03.jpg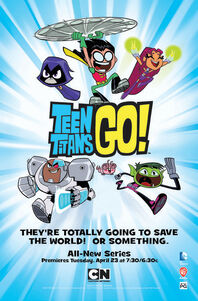 Teen Titans Go! is an American animated tv based on the DC Comics fictional superhero team, the Teen Titans. The series was announced following the popularity of DC Nation's New Teen Titans shorts,[ both of which are based on the 2003 Teen Titans TV series. Teen Titans Go! is a more comedic take on the DC Comics franchise, dealing with situations that happen outside of saving the world.
Sporting a new animation style, Teen Titans Go! serves as a comedic spin-off with little continuity to the previous series, and only certain elements are retained. Many DC characters make cameo appearances and are referenced in the background, and the show also consists of much darker humor than its predecessor. The original principal voice cast returns to reprise their respective roles.
The series airs every Tuesday, and then rebroadcast as part of the DC Nation block on Saturday. New episodes moved to Wednesday on September 11, 2013. Beware the Batman has joined Teen Titans Go! on the DC Nation block in July 2013.
SEASON ONE:
Edit
SEASON ONE EPISODE GUIDE
LEGENDARY SANDWICH
PIE BROS.
DRIVER'S ED
DOG HAND
RAVEN'S DADDY ISSUES
DOUBLE TROUBLE
THE DATE
DUDE, RELAX!
LAUNDRY DAY
GHOST BOY
LA LARVA AMORA
HEY PIZZA
GIRL'S NIGHT OUT
YOU'RE FIRED!
GORILLA
PARASITE
YOU'RE FIRED
SUPER ROBIN
TOWER POWER
PARASITE
STARLIAR
MEATBALL PARTY
STAFF MEETING
TERRA-IZED
ARTFUL DODGER
BURGER VS BURRITO
MATCHED
COLOR OF RAVEN
THE LEFT LEG
BOOKS
LAZY SUNDAY
STARFIRE THE TERRIBLE
POWER MOVES
STARING AT THE FUTURE
NO POWER
SIDEKICK
CAGED TIGER
SECOND CHRISTMAS
NOSE MOUTH
LEGS
BREAKFAST CHEESE
WAFFLES
BE MINE
OPPOSITES
BIRDS
BRAIN FOOD
IN AND OUT
LITTLE BUDDIES
MISSING
UNCLE JOKES
MAS Y MENOS
GRANDMA VOICE
REAL MAGIC
PUPPETS WHAAAT?
Ad blocker interference detected!
Wikia is a free-to-use site that makes money from advertising. We have a modified experience for viewers using ad blockers

Wikia is not accessible if you've made further modifications. Remove the custom ad blocker rule(s) and the page will load as expected.