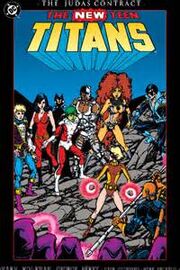 http://i424.photobucket.com/albums/pp327/monitor_ep/comic%20books%20in%20the%20media%20photos/TEENTITANSLOGO_zps9dceee03.jpg
WHAT WE KNOW:
Edit
At the San Diego Comic-Con International in 2006, a Judas Contract animated movie was announced. Marv Wolfman and George Pérez, creators of The New Teen Titans, were assigned to work on the direct-to-DVD movie. The film has been cancelled due to a lack of a "broad fanbase appeal", which would have put it ahead of other projects.
Ad blocker interference detected!
Wikia is a free-to-use site that makes money from advertising. We have a modified experience for viewers using ad blockers

Wikia is not accessible if you've made further modifications. Remove the custom ad blocker rule(s) and the page will load as expected.