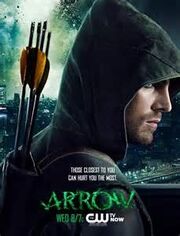 DC COMICS IN THE MEDIA
"State v. Queen" is the seventh episode of the second season of Arrow. It will air on November 20, 2013.
Oliver is concerned when a mysterious illness sweeps the city, infecting hundreds of people, including Diggle. Oliver discovers Vertigo in Diggle's blood and realizes The Count has broken out of prison and is once again distributing his drug. Meanwhile, Moira goes on trial for her participation in the Undertaking. ADA Adam Donner collapses in court with Vertigo symptoms so Laurel must step in and try the case against Moira. Oliver is torn between standing by his family during the trial and catching The Count. However, things change when Felicity follows a lead and walks straight into a trap set by The Count.
Write
MONITOR'S NOTES:
Edit
This episode marks the name change for The Count to Count Vertigo
Oliver kills Count Vertigo, despite him promising himself he wouldn't kill in memory of Tommy.
Malcolm Merlyn makes his first appearance this season, and is revealed to be alive.
Merlyn makes reference to places "in which death is but an illusion", maybe hinting at Ra's al Ghul's Lazarus Pit.
Felicity Smoak, speaking of the Count's possible location, says "He could be also in Markovia". In the comics, Markovia is Brion Markov's kingdom.