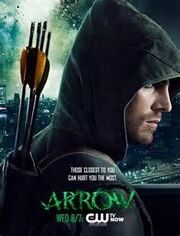 DIGGLE GOES AFTER DEADSHOT — Amanda Waller (guest star Cynthia Addai-Robinson) sends A.R.G.U.S. agents to kidnap Diggle (David Ramsey). Waller informs Diggle that Lyla (guest star Audrey Marie Anderson) has gone missing after following a lead on Deadshot (guest star Michael Rowe) in Moscow. When Diggle tells the team he's headed to Russia to rescue Lyla, Oliver (Stephen Amell) and Felicity (Emily Bett Rickards) decide to join, but things get messy when Isabel (guest star Summer Glau) shows up on the tarmac and insists on joining Oliver's "work trip." Meanwhile, Moira's (Susanna Thompson) lawyer, Jean (guest star Teryl Rothery), tells Thea (Willa Holland) that dating Roy (Colton Haynes), a known criminal, is hurting her mother's case. Guy Bee directed the episode written by Ben Sokolowski & Beth Schwartz.
Section heading
Edit
Write the second section of your page here.
Ad blocker interference detected!
Wikia is a free-to-use site that makes money from advertising. We have a modified experience for viewers using ad blockers

Wikia is not accessible if you've made further modifications. Remove the custom ad blocker rule(s) and the page will load as expected.