Ad blocker interference detected!
Wikia is a free-to-use site that makes money from advertising. We have a modified experience for viewers using ad blockers

Wikia is not accessible if you've made further modifications. Remove the custom ad blocker rule(s) and the page will load as expected.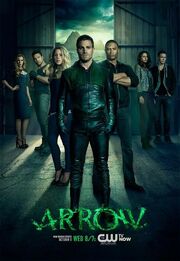 http://i424.photobucket.com/albums/pp327/monitor_ep/comic%20books%20in%20the%20media%20photos/Arrowlogo_zps2140ac71.jpg
Welcome to the Arrow's Who's Who of Team Arrow.  Team Arrow will cover the family of Oliver Queen and his Arrow Team. 
TEAM ARROW'S WHO' WHO
Edit
TEAM ARROW'S WHO'S WHO
OLIVER QUEEN - ARROW
ROBERT QUEEN
MORIA QUEEN
THEA QUEEN
JONH DIGGLE
FELICITY SMOAKE
BLACK CANARY ( SARA LANCE)
SIN
ROY HARPER