DC COMICS IN THE MEDIA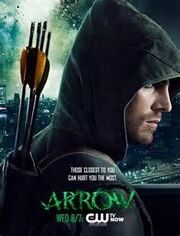 Crucible is the fourth episode of the second season. It will air on October 30, 2013.
Oliver discovers a man who goes by the name "The Mayor" is bringing illegal guns into the Glades, so Oliver sponsors a "Cash for Guns" event to help clean up the city. Unfortunately, The Mayor crashes the event with his gang and seriously injures Sin. The Canary is furious when she learns her friend is in the hospital and sets out for revenge. Meanwhile, Felicity stuns Oliver with a bit of information about the Canary, Donner asks Laurel to dinner, and Diggle reconnects with an old friend.
COMIC BOOK INFO
Edit
Camp Kirby borrows the name from Jack Kirby (Comic Book icon)
Black Canary is finally revealed
Blood shows his true self at the end of the show
Ad blocker interference detected!
Wikia is a free-to-use site that makes money from advertising. We have a modified experience for viewers using ad blockers

Wikia is not accessible if you've made further modifications. Remove the custom ad blocker rule(s) and the page will load as expected.