While on her way to meet Oliver, Moira is almost gunned down by a mysterious assailant who was attempting to assassinate an associate of mob boss Frank Bertinelli. Oliver attempts to infiltrate Frank's business to discover the identity of the attacker. Frank confronts China White and the Triad gang for the murders of his people. Oliver learns that the attacker is Helena Bertinelli, Frank's daughter, with whom he had just been on a date. Helena reveals that she is looking for revenge against her father, who she blames for the murder of her fiancé. Helena and Oliver are abducted by Frank's right-hand man, Nick Salvati, in connection to the deaths of other mob associates; Helena kills Nick after learning he killed her fiancé. She also deduces Oliver's identity as the vigilante after witnessing him fight her father's henchmen. In the end, Helena confesses to Oliver that she believes that they both share similar stories and that is why they feel connected to each other. Meanwhile, Tommy is cut off financially by his father, who turns out to be the unknown associate that Moira was meeting with regarding the target list. Walter returns home after being away for weeks.
COMIC BOOK INFO
Edit
This marks the first appearance of Helena Bertineli as the Huntress in live action.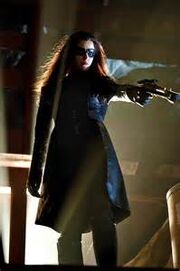 Ad blocker interference detected!
Wikia is a free-to-use site that makes money from advertising. We have a modified experience for viewers using ad blockers

Wikia is not accessible if you've made further modifications. Remove the custom ad blocker rule(s) and the page will load as expected.