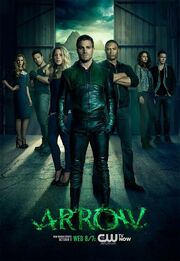 DC CINEMATIC MULTIVERSE
"Lone Gunmen" is the third episode of the first season of Arrow, and the third episode overall. It aired on October 24, 2012.
Oliver tracks down another millionaire from his list, but before he can get the answers he wants the man is killed by an assassin known as Deadshot. Initially, the police suspect the vigilante (whom they call "The Hood") of the killing, but the evidence goes against that theory. Oliver decides to build a new dance club above his hideout as a cover for his nighttime disappearances. While comparing the competition, he finds Thea, who reveals that Laurel and Tommy had been sleeping together during Oliver's absence. Laurel becomes suspicious when Oliver does not react to the news, and concludes he already knew. Meanwhile, Oliver uses the assassin's M.O. to learn his true identity, and, as the vigilante, enlists the help of Detective Lance to prevent Deadshot assassinating more of the wealthy. Oliver stops Deadshot, apparently killing him in the process, but his bodyguard Diggle is shot during the assassination attempt. In order to save Diggle's life, Oliver is forced to reveal his dual identity to him. Flashbacks reveal that the archer who attacked Oliver was actually trying to help him; Oliver misunderstands and escapes, but is pursued by an unknown group of armed professionals
ARROW WHO'S WHO:
Edit
| CAST | DC COMICS EASTER EGGS |
| --- | --- |
| OLIVER QUEEN - ARROW | |
| DINAH "LAUREL" LANCE | |
| TOMMY MERLYN | |
| JOHN DIGGLE | |
| THEA QUEEN | |
| MORIA QUEEN | |
| WALTER STEELE | |
| DETECTIVE QUENTIN LANCE | |
| DETECTIVE LUCAS HILTON | |
| JOANNA DE LA VEGA | |
| YAO FEI | |
| ALEXI LEONOV | |
| JAMES HOLDER | |
| BUISNESS SUIT (LINI EVANS) | |
| TV FIELD REPORTER (MARRETT GREEN) | |
| CARLY DIGGLE | |
| HOT GIRL (NICOLE HOMBREBUENO) | |
| BOUNCER #1 (BROADUS MATTISON) | |
| THE MECHANIC (BARRY NERLING) | |
| FELICITY SMOAK | |
| MATT FULLER | |
| DEADSHOT | |
MONITOR'S NOTES: Behind-the-scenes
Edit
Oliver asks for a man named Alexei Leonov. There is a real person named Alexei Leonov , he was the first person to "walk in space".
Ad blocker interference detected!
Wikia is a free-to-use site that makes money from advertising. We have a modified experience for viewers using ad blockers

Wikia is not accessible if you've made further modifications. Remove the custom ad blocker rule(s) and the page will load as expected.