Ad blocker interference detected!
Wikia is a free-to-use site that makes money from advertising. We have a modified experience for viewers using ad blockers

Wikia is not accessible if you've made further modifications. Remove the custom ad blocker rule(s) and the page will load as expected.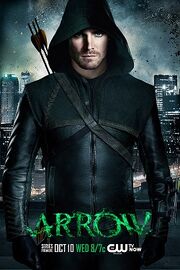 Another vigilante, who goes by "The Savior", appears in Starling City and kidnaps one of Oliver's targets, a slum lord who recently had criminal charges dropped against him because he was able to pay off the District Attorney. The Savior forces the slum lord to confess his atrocities, only to shoot him dead over a live internet broadcast. When The Savior kidnaps the District Attorney, and broadcasts his interrogation, Felicity attempts to track his location for Oliver. The signal continues to move and keeps Oliver from being able to save the attorney. The Savior goes after Roy next, whom he deems as just another gangbanger. Diggle realizes that The Savior is using an abandoned subway car to travel around the city, and Oliver is able to catch the subway car and stop the Savior before he can kill Roy. Afterward, Oliver realizes the secret organization's plans involve The Glades, a neighborhood filled with poverty and crime. Meanwhile, Laurel proves to Dinah and her father, who now believes his daughter survived, that Sara did indeed die when the yacht sank. Malcolm contacts the Triad to determine who tried to kill him. Moira turns over her co-conspirator Frank Chen to Malcolm, who, dressed in his archer attire, kills Chen and thanks Moira for her loyalty. The flashback to the island shows that Oliver and Slade freed Yao Fei's daughter, but at the cost of Fyers reacquiring the circuit board
COMIC BOOK INFO
Edit
There is a character in the DC Comics called The Savior, a man called Ramsey Murdoch who started a personal crusade against Superman, believing him to be evil. The two are seemingly not related in any way.
Joseph Falk could also be based off the Batman villain, Anarky. Anarky would kidnap business elites, and would put them on a public trial, their trials would be broadcasted on a television program. Like Joseph Falk, Anarky believes he is saving the world.
Joseph Falk claims that he was inspired by Arrow and that they are the same. However they are as different as chalk and cheese. Arrow only kills his enemies in self-defense, or to save the lives of innocent people, but tries his best to avoid it, and never acts as judge, jury, and executioner. He willingly gives his enemies a second chance.