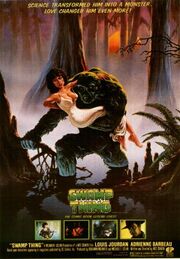 http://i424.photobucket.com/albums/pp327/monitor_ep/comic%20books%20in%20the%20media%20photos/SWAMPTHINGLOGO_zpsdda93a15.jpg
Swamp Thing is a 1982 American science fiction film written and directed by Wes Craven. It tells the story of scientist Alec Holland (Ray Wise) who becomes transformed into the monster Swamp Thing (Dick Durock) through laboratory sabotage orchestrated by the evil Anton Arcane (Louis Jourdan). Later, he helps out a woman named Alice (Adrienne Barbeau) and battles the man responsible for it all, the ruthless Arcane. The film was based on the DC Comics (later Vertigo Comics) character of the same name by Len Wein and Bernie Wrightson.
In the swamps of Louisiana, Dr. Alec Holland works with his sister Linda on a top-secret bio-engineering project to create a plant/animal hybrid capable of thriving in extreme environments. Government agent Alice Cable arrives just as Holland makes a major breakthrough, and begins to develop feelings for him. However, a paramilitary group led by the evil Dr. Anton Arcane, who is obsessed with immortality, kills Linda while trying to steal the formula for their own purposes. During the attack, Alice escapes and Alec is covered in chemicals, caught on fire, and runs screaming in the swamp, presumably to die. However, he returns as a monstrously mutated plant creature. As the Swamp Thing, Holland battles Arcane's forces to protect Cable, and eventually takes on the mad doctor himself, who has also mutated from his incomplete understanding of the Holland formula.
Ad blocker interference detected!
Wikia is a free-to-use site that makes money from advertising. We have a modified experience for viewers using ad blockers

Wikia is not accessible if you've made further modifications. Remove the custom ad blocker rule(s) and the page will load as expected.