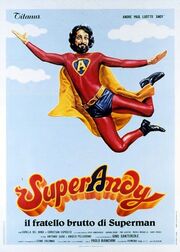 http://i424.photobucket.com/albums/pp327/monitor_ep/comic%20books%20in%20the%20media%20photos/jlilogo_zps579eddcf.jpg
YOUTUBE CLIP
Edit
The Planet Tripton is condamned. Two anxious parents attempt to save their young son by launching hil into space. Landing on Earth the boy is found and adopted by a middle-aged couple, Antonio and Maria, who already have a son, Tommy. Finding out that the boy has axceptional powers, Tommy gives him the name Super Andy and after reading vorious publications, Tommy is able to inform Andy about his origin and that he has a brother, SuperKid, who lives in America. Blood ties are strong and Andy decides to go and find his brother.
Andy Luotto ... Super Andy Gino Santercole ... Super Kid Eurilla Del Bona ... Marthy Chris Esposito ... Tommy Silvia Annichiarico Adriana Bruno Antonio Guidi Giuseppe Licastro Michele Mirabella Angelo Pellegrino Guido Spadea
Ad blocker interference detected!
Wikia is a free-to-use site that makes money from advertising. We have a modified experience for viewers using ad blockers

Wikia is not accessible if you've made further modifications. Remove the custom ad blocker rule(s) and the page will load as expected.