http://i424.photobucket.com/albums/pp327/monitor_ep/comic%20books%20in%20the%20media%20photos/SUPERMANFAMILY_zps278df470.jpg

Superman Returns is an Academy Award-nominated 2006 superhero film based on the fictional DC Comics character Superman. It was directed by Bryan Singer and stars Brandon Routh, Kate Bosworth and Kevin Spacey. The screenplay was written by Michael Dougherty & Dan Harris, based on a story by Bryan Singer, Dan Harris and Michael Dougherty.
Filming began in February 2005, and the movie was released in the United States on June 28, 2006 after sixteen months of filming and production. It was the first theatrical Superman film since 1987's Superman IV: The Quest For Peace. The film received mostly positive critical reviews and grossed over $391 million worldwide.
The film revolves around Superman's return to Earth after a five-year absence. He re-assumes his secret identity of Clark Kent, and discovers that Lois Lane—now in a "prolonged engagement"—has a five-year-old son. Superman's nemesis, arch-villain Lex Luthor has devised a new plan to defeat Superman. Director Bryan Singer has said that the continuity is "taking off from the first two Superman films with Christopher Reeve", which serve as its back-story, or as he put it, a "vague history". Marlon Brando's role as Superman's biological father Jor-El is reprised with the help of computer-generated imagery and earlier footage.
Opening titles reveal Superman has been missing for five years after astronomers discovered the remains of Krypton. He returns to Earth with his spacecraft crashing back into his adoptive mother's crop field, and awakes the next morning reminiscing of his childhood. He returns to work as Clark Kent at The Daily Planet in Metropolis, where he learns Lois Lane is now a mother and has won the Pulitzer Prize for her article Why the World Doesn't Need Superman. During Superman's absence, Lex Luthor has been released from prison, conned a rich widow into a sham wedding to get his hands on her money, and stolen Kryptonian crystals from the Fortress of Solitude. Luthor returns to Metropolis and experiments with a tiny fragment in a pool which grows to immense size. The growing crystal causes a blackout, affecting the take off of a space shuttle-like vehicle tethered to a Boeing 777, which Lois Lane is aboard, covering the story. Clark flies into action as Superman and stops the plane from crashing into a baseball field.
The world rejoices in Superman's return, but Lois is more concerned with the blackout. Clark meets her fiancé Richard White, nephew of Daily Planet editor-in-chief Perry White, and their son Jason. Superman is hurt when he overhears a conversation between Lois and Richard in which she says she never loved Superman. He buries himself in his work, including halting a bank heist and saving Kitty, Luthor's co-conspirator. While Kitty distracts Superman, Luthor steals kryptonite from a museum. Perry assigns Lois to interview Superman whilst Clark investigates the blackout. At night, Lois goes out for a smoke on top of the The Daily Planet and Superman takes her for a flight, during which he apologizes for leaving her.
After her latest Superman interview, Lois focuses her attention on the blackout again and learns where it started. Lois and Jason sneak onto Luthor's ship, not realizing who owns it, and are captured. Luthor reveals his grand scheme: using one of the stolen Kryptonian crystals to grow a new landmass, even though he is aware it will destroy already existing continents and kill billions. He also inquires as to who is the father of Jason after noticing Lois' reaction to the kryptonite being near her son. Luthor launches the crystal (now encased in kryptonite) into the sea, causing a chain reaction resulting in its massive growth. Lois faxes their co-ordinates to The Daily Planet and is attacked by a henchman. Jason throws a piano at him in an apparent display of super strength, and after hearing news of the incident, Luthor imprisons them in a galley as he escapes in a helicopter. The landmass' growth causes destruction in Metropolis which Superman attends to, and Richard arrives in a sea plane to rescue Lois and Jason from the ship, which splits in half and sinks with them trapped inside. Superman rescues them and he flies off to find Luthor, who has returned to the landmass.
Meeting Luthor, Superman discovers the landmass is filled with kryptonite, which allows Luthor and his henchmen to beat and torture him. Luthor stabs Superman with a shard of kryptonite, after which he falls into the ocean. Lois makes Richard turn back to rescue Superman, and she removes the kryptonite shard from his back. Superman regains consciousness, gathers more energy from the Sun, and lifts the landmass into the atmosphere. Luthor and Kitty escape in their helicopter, but not before Kitty tosses the crystals; she and Luthor are stranded on a desert island some time later. Superman throws the landmass into space, but weakened by the kryptonite, crash lands back to Metropolis. The doctors cannot penetrate his body with their medical equipment, but manage to remove the rest of the kryptonite from his wound. While Superman remains in a coma, Lois and Jason visit Superman at the hospital, where, careful not to let Jason overhear, Lois whispers a secret in Superman's ear. Superman later awakens and flies to see Jason, reciting his father's last speech to him as he sleeps. Lois also starts writing Why the World Needs Superman.
DELETED OPENING SCENE
Edit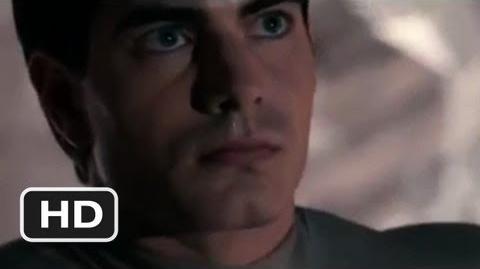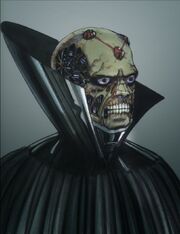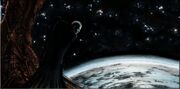 In February 2006, four months before the release of
Superman Returns
, Warner Bros. announced a mid-2009 theatrical release date for a sequel, with Bryan Singer reprising his directing duties.
[82]
Brandon Routh
,
[83]
Kate Bosworth
,
[84]
Kevin Spacey
,
[85]
Sam Huntington
,
[86]
Frank Langella
,
[87]
and
Tristan Lake Leabu
were to reprise their roles.
[88]
Due to his commitment, Singer dropped out of directing a remake of
Logan's Run
and an adaptation of
The Mayor of Castro Street
.
[89]
Writer
Michael Dougherty
wanted the sequel to be "action packed", featuring "other Kryptonians"
[90]
with
Brainiac
[91]
and
Bizarro
also considered for primary villains.
[88]
The "
New Krypton
" landmass floating in space at the end of
Superman Returns
would have served as a
plot device
.
[92]
Although
Superman Returns
received mostly positive reviews, Warner Bros. and Legendary Pictures were disappointed by the film's box office return.
[93]
Warner Bros. President
Alan F. Horn
explained that
Superman Returns
was a very successful film, but that it "should have done $500 million worldwide. We should have had perhaps a little more action to satisfy the young male crowd."
[94]
Singer reacted incredulously to the studio complaints, saying, "That movie made $400 million! I don't know what constitutes under-performing these days..."
[95]
$175 million was the maximum budget Warner Bros. was projecting for the sequel, as
Superman Returns
cost $204 million.
[1]
[2]
[96]
Filming for the Superman Returns sequel was to start in mid-2007,[97] before Singer halted development in favor of Valkyrie.[98] Filming was then pushed to March 2008,[99] but writers Dougherty and Dan Harris left in favor of other career opportunities.[100] The 2007–2008 Writers Guild of America strike pushed the release date to 2010.[101] Singer still listed the sequel as a priority in March 2008, saying that the film was in early development.[95] Routh expected filming to begin in early 2009.[102] Paul Levitz, president of DC Comics, expected Routh to reprise the title role from Superman Returns before his contract for a sequel expired in 2009. However, with Warner Bros. deciding to reboot the film series, Singer dropped out in favor of directing Jack the Giant Slayer, "Superman Returns didn't quite work as a film in the way that we wanted it to," Warner Bros. President of Production Jeff Robinov reflected in August 2008. "It didn't position the character the way he needed to be positioned. Had Superman worked in 2006, we would have had a movie for Christmas of this year or 2009. Now the plan is just to reintroduce Superman without regard to a Batman and Superman movie at all."
BURGER KING KIDS MEAL COMMERICAL
Edit
The
Ad blocker interference detected!
Wikia is a free-to-use site that makes money from advertising. We have a modified experience for viewers using ad blockers

Wikia is not accessible if you've made further modifications. Remove the custom ad blocker rule(s) and the page will load as expected.